Booking Secrets from Both Sides of the Audition Room!
Join Us For:
Booking Secrets from Both Sides of the Audition Room!
With Jennifer Buster and Peter Jacobson
Saturday, June 24th, 2023
Scaffold Theatre at Lightree Studios
740 W 1700 S, Suite 9, SLC, UT 84104
And Online via Zoom
Tuition $129* 
If you've attended our super popular Tape That Booked It workshops you know what a powerhouse Casting Director Jennifer Buster is. Her knowledge and insights about the casting process are stellar, her passion for helping actors is nothing short of inspirational. So you'll be delighted to hear we're slated for another workshop, but this time you'll get two for one! Jennifer is bringing along actor Peter Jacobson (House, Law & Order series regular, Transformers) for Booking Secrets from Both Sides of the Audition Room!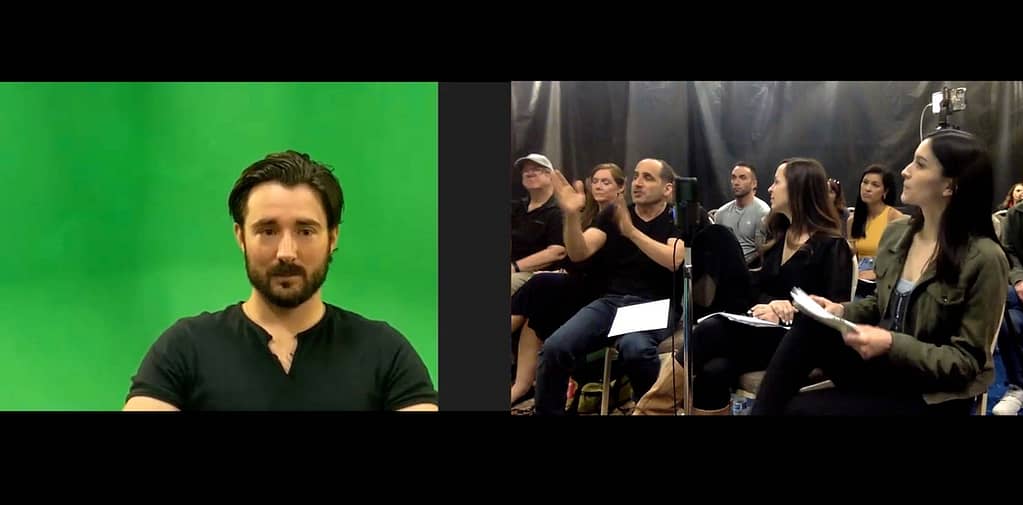 Yes, that is correct, you will get to hear the experience and insights from both the casting side and the actor side of auditions! Jennifer has over twenty years of casting under her belt and Peter has been working steadily since he graduated from Julliard in the 90's. This unique combination of experience will be like nothing you've seen before. Also, you'll have a chance to be one of the handful of actors selected to work directly with Peter and Jennifer in real time at the workshop.
The combined insights and information from Jennifer and Peter will be given while they simultaneously work with a select handful of actors. This unique experience of double coaching will help you understand the audition process on a much deeper level than ever before. It will help you see the importance of making adjustments and how to do that. How to understand the tone of the show and make castable choices. It will boost your understanding of the dynamics of the casting director/actor relationship, empowering you with audition confidence. Whether you work directly with Jennifer and Peter or are an observer, you will see in action how to bring your very best work to the table.
Saturday, June 24th, 2023
Scaffold Theatre at Lightree Studios
740 W 1700 S, Suite 9, SLC, UT 84104
And Online via Zoom
Tuition $129* 
Whether you are selected to perform or not you will be blown away by what you will learn. Watching the coaching process and hearing from both the POV of a casting director and a highly successful actor will completely change the way you look at auditioning.
This workshop is one you just cannot afford to miss
How it will work:  A group of actors will be selected* from an audition process to prepare scenes and work in-depth with Jennifer and Peter in an audition setting. All other participants will observe and be able to ask questions during the Q&A. Peter and Jennifer will also share their most valuable insights from their vast experience as working professionals in the film and TV industries.
Actor Selection: Once you sign up for the workshop (there will be an in-person and online option) you can decide to audition to work with Peter and Jennifer or not. If you do, sides will be provided to pick from. Prepare the sides as a self-tape and upload it to the provided link. The last day to submit your audition is Friday the 16th of June by 5pm. Actors will be notified of their selection by Monday the 19th of June. Actors selected to work will be charged an additional $49.
*(If selected coaching participants will pay an additional $49.)
Audition Instructions for coaching Selection
Select  sides by clicking HERE. 
Make a self-tape – be sure to put your best foot forward – use great lighting, sound and set up. And make sure you tape with your phone horizontally. We just need your first and last name (age if under 18) for your slate. And please put it at the END of your tape.
Submit self tape by clicking HERE.
Audition tapes are due Friday, June 16

th

by 5pm.
Please send in your tape as soon as possible.
If selected, we will notify you by June 19

th

the Monday before the workshop. You will be sent a link for the additional payment of $49 at that time. 
Peter has been acting in theatre, film and television for over 30 years. After graduating from The Juilliard School, he worked on stage in New York, and regionally for 10 years before transitioning to the screen. His most recent work includes the upcoming Apple+ limited series 'WeCrashed' with Anne Hathaway and Jared Leto, and AMC's 'Fear The Walking Dead'. He played Dr. Taub on 'House' for 5 seasons, Alan Snyder on 'Colony' for 3 seasons, and has booked 8 other series regular roles. He has played recurring characters on 11 different series, including 'The Americans', 'Ray Donovan', 'NCIS:LA', 'Law and Order' and 'Law and Order:SVU'. He's also booked guest roles on numerous shows including 'Billions', 'It's Always Sunny in Philadelphia', 'Bull', 'The Good Wife', 'Entourage', 'Will and Grace', 'Scrubs', 'ER', and 'The Cosby Show'. Some of his film credits include 'The Goldfinch', 'Paterno', 'White House Down', 'Cars 2', 'Transformers', '61*', 'Good Night and Good Luck' and 'As Good As It Gets'. Over the years, he has worked with directors and actors such as Sidney Lumet, Barry Levinson, John Frankenheimer, George Clooney, Billy Crystal, James Brooks, Woody Allen, Robert Duvall, Robert DeNiro, Jack Nicholson, Donald Sutherland, Bruce Willis, Geoffrey Rush and John Voight. He is currently auditioning for whatever his next role may be . .
Saturday, June 24th, 2023
Scaffold Theatre at Lightree Studios
740 W 1700 S, Suite 9, SLC, UT 84104
And Online via Zoom
Tuition $129* 
What People Are Saying About Our Workshops
I simply had to reach out with a big, fat THANK YOU! I took the last workshop with Jennifer Buster and loooooooved it! (Via zoom) I have had 2 Hallmark auditions since taking the class. I booked one of them and scored a callback for the second! Thank you for these workshops! I am taking the next one via zoom as well – as I live in Vegas. Thanks again!!! — Pam Eichner
Thank you so much for the amazing workshop today! I had an absolute blast, and it was so fun getting to know Jennifer and Peter better. THANK YOU for doing this, and I hope to work with you again soon! — Paul Cartwright
I really appreciated the workshop thank you so much for hosting it. I got a lot from it and am grateful for the experience. I'm looking forward to the next one-I'd love to stay updated 🙂 — Katie Sereika
I just wanted to thank you both again for an awesome workshop! Please send me any new workshop opportunities as I am always eager to learn!! — Karann Goettsch
I thought the information was valuable. I think I know better now what is expected of me in regard to the technical aspects of taping auditions with Hallmark and others. — Loren Lambert
Yesterday was awesome. Thank you for making that happen. I gained soooo much insight. I am totally stoked to audition for Jennifer again!! And, really for all of my upcoming auditions. I really got some good nuggets I can't wait to put into practice. — Joy Haynes
Well The Tape That Booked It workshop was freaking amazing! I loved it and learned SO much. It was brilliant and so much fun. Truly appreciate what you created and all that we got to learn. Thank you for putting on a stellar event. — Camilla Granåsen
Thank you so much for the wonderful class with Jennifer today! Your experience is amazing.  Really fabulous. — Allison Baver
LOVED the workshop! It was super helpful and seeing examples really opened my eyes! — Anne Forester
Thanks for a great and enlightening workshop. I can't express how helpful it was to see the class audition and then the audition that booked the role. Thank you so much. — Tonja Henderson