Meet Our VO Instructor: Linda Bearman
To contact Linda Bearman directly email her at lb.voiceovercoach@gmail.com
"Linda was always respectable, hard working and reliable.  I still talk to her about the business as she's a store house of knowledge regarding talent, the voice over community and business in general."   —  Debbie Cope: Cope Management, Los Angeles, CA
"Linda is a fantastic coach! She has a distinct ear for the core qualities of a voice, and follows current trends to utilize your sound in the most effective way.  I heed and appreciate her guidance wholeheartedly."   —  Rhiann Woodyard: Actress, Los Angeles, CA 
"I have taken The Essentials of Voiceover with Linda Bearman twice now and I highly recommend the experience. What I love about Linda is how tireless she is in her research to bring new material and insights to her students. She also tailors her practice material to the level of the student she is working with. My second Essentials workshop was a step up for me from my first because of this. Linda is also generous with her time and shares thoughts via email if something comes up that is appropriate for me and will help me. Her expertise is phenomenal and current and I feel so lucky that she is back doing workshops for the community here."  — Sarah Shippobotham: Actor; Actor Training Professor: University of Utah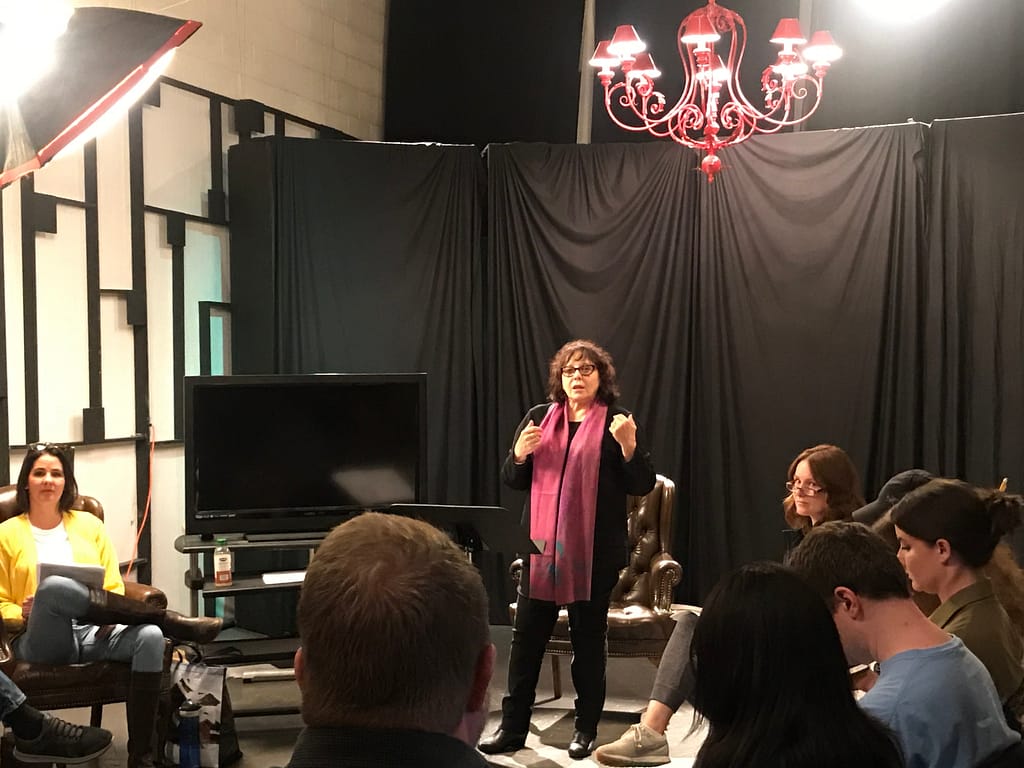 Linda Bearman presents 30+ years of experience in the Voiceover industry and nearly a lifetime in the performing arts. She currently coaches Voiceover actors, from the aspiring, to those well-entrenched in successful careers. Linda's focus is on teaching the fundamentals of the craft and business of Voiceover, while applying the most current trends into the mix in the genres of: commercial, character/animation, narration, and more. She especially focuses on implementing customized innovative marketing strategies to help maximize a voice actor's success.
Linda's introduction to the Performing Arts began at a young age with studies and performances in the U.S. and abroad. She studied acting with members of: The National Theatre of Great Britain (UK); RSC (UK); Actors Studio (NYC); Arena Stage, (Washington, D.C.) and attended master classes taught by: Vanessa Redgrave, Sir John Gielgud, Harold Pinter, Gregory Peck, Kim Stanley, Ben Kingsley, Maureen Stapleton, Patrick Stewart, and Robert Alexander, among others. One of her most significant acting experiences was performing opposite the Oscar winning famed actress, Greer Garson.
After receiving a BFA in Acting, Linda transitioned to theatre management, followed by numerous production/casting jobs in the Film and TV industry primarily in Los Angeles, which included; Jeopardy, The Oprah Winfrey Show and Wheel of Fortune. When hired by the outstanding commercial talent agency, Sutton, Barth & Vennari (SBV), Linda discovered the exciting world of Voiceover by casting auditions daily, recording and directing actors' auditions, followed with negotiating actor contracts and campaigns.
As a talent agent, she represented voice actors with varying degrees of experience including countless Hollywood celebrities, and helped launch the careers of some of today's most notable performers. Years later, Linda relocated to Park City, Utah, where she co-founded, co-owned and operated the Salt Lake City full service talent agency, Talent Management Group (TMG) in its first decade of business, prior to moving back to warmer climes.
Linda has since accelerated her passion for coaching and helping the aspiring voice actor on their VO quest. Linda remains active in the Voiceover community maintaining relationships with colleagues and friends on both coasts.
"Linda was an agent for many years at SBV who offered wisdom and visions of high expectations for our business resulting in increased revenues. A true advocate for the actor, Linda excelled at developing new Voice Over talent while also demonstrating strong negotiating skills. SBV will always be grateful for Linda's discovery of one of the real "superstars" of the business. She is also recognized for having started the Spanish voice over department long before it was commonplace." — Rita Vennari, CEO, Sutton, Bath & Vennari, Los Angeles, CA
"Every professional experience with Linda has been marked be her keen attention to detail, honesty, collegiality and humor. Her capacity for establishing strong connections in relationships and developing creative strategies results in refreshing and productive outcomes. Linda obtains results by combining a personable approach with sharp negotiating skills and quiet determination." — Alex Mustelier, Lincoln Center Theatre, NYC
"What Linda says should be heard loud and clear, the knowledge accrued by the actor she is working with should be adhered to word for word. I have worked in the Film industry for over 40 years. I know a lot of people in all fields. When I need someone to teach the craft of Voice Over, I will only bring Linda Bearman. Enough said." — Catrine McGregor: Producer, Writer, Casting Director, Blue Banner Films
"I have had the pleasure of working with Linda for nearly 25 years, and the one thing that has always impressed me is the integrity that Linda brings to everything she does. Linda is a gifted negotiator, an astute director and a no-nonsense business person all wrapped into one of the nicest people you could ever meet." — Nick Omana: Voiceover Artist, Writer, Producer; N.O.V.A. Prod.'s., Los Angeles, CA
"Thank you so much Linda for a fantastic experience. I grew as an actor and gained a deeper respect and understanding for voiceover work. I'm going to continue forward with this by implementing your strategies,etc. Your experience and understanding of this industry is amazing." — Camilla Fowler, Actor
"Linda is one of the most knowledgeable, talented, and well-respected acting and voice acting coaches in the country. Her method of teaching has a well developed structure for beginners to advanced talent. She is always encouraging her students by focusing on their strengths and building upon their areas of improvement. She is well connected in the industry and stays current with her teaching techniques. I have been able to accomplish many professional jobs under her guidance and tutelage." — Joseph A. Batzel / Professional Actor, Voice Actor, Adjunct faculty Utah State University
"Linda's expertise of the Voice Over industry has been invaluable in launching me into the VO arena as a true professional. Her consulting and producing of my demo dramatically increased my bookings and call backs." — Elizabeth Hales, VO Actress, Los Angeles, CA
"Linda's years of experience in the industry has proven very beneficial in our business dealings. We have appreciated her attention to detail. professional input & feedback as a consultant." — Kevin Mack, COUNTING CARS, History Chanel
"Linda's artistry, expertise, and generosity of spirit, creates a safe space for students (of any level) to explore their VO journey with positivity and directness. A wonderful teacher and creator of community, I'd recommend her class to anyone interested in the world of VO." — Ava Kostia/ NYC and UT Actor
"I signed up for the Essentials class with Linda because I wanted to transform my interest in voice over into real skills and a craft I could hone. Linda's approach was so helpful to me—lots of practical tips and she helped me get a better sense of how I come across and where I should concentrate my efforts. There was lots of one-on-one time in the class and even more of that kind of help when I signed up for her next available class to prep some new demos. All in all, these two classes have been both useful and motivating to me. I'm so glad I took them." — Mariah Proctor/ VO Actor
"Working with Linda has always been such an honor. Her personal desire for my career improvement and developing my ownership of the craft are second to none. Her knowledge of the industry and years of experience have helped advance my career immensely! I would not be where I am today without her help!" — Ben Burnett / Actor
"Thank you so much, your direction has helped me get more on track to making this career become a reality."— Katie Two Dogs / VO actor