Classes and Individual Training Options
AIAC Beginning Acting Classes – $179 a month
One 3.5 hour class per week. Ongoing Beginning Classes are held Tuesdays (Online) or Saturdays (Hybrid) from 10am to 130pm MST. You will train in the Liechty Technique, which combines the best of the greats, Stanislavski, Meisner, Uta Hagen, David Mamet, Lessac giving you the fundamentals of acting, voice and movement. You will develop a fail-safe acting process, master the basics of auditioning, script analysis and performance, plus receive individual guidance on how to approach the business of acting. Intermediate and Advanced Classes are by invitation only.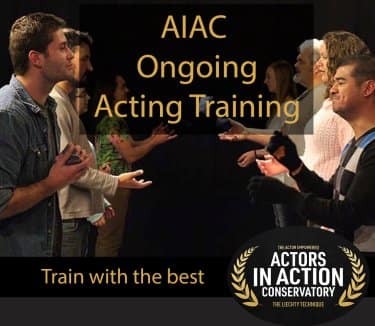 AIAC Ongoing Class Plus – $279 a month
One 3.5 hour class per week + 30-min weekly individual.
If you truly want to accelerate your training this is for you. With the Class Plus option you will not only get the intensive training of your weekly AIAC class (3.5 hours) you will also get a 30-Minute Individual Weekly Training Session. In that session specific training and guidance will be given to help you more quickly assimilate the mastery of the technique, moving you rapidly up the training system, building your confidence and solidifying your individual, fail-safe acting process at a rapid-fire pace.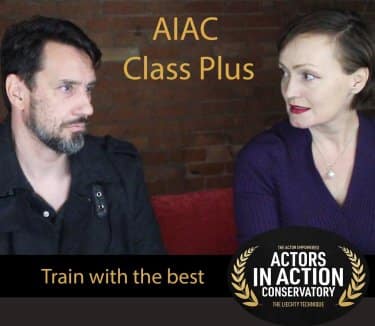 AIAC Youth Core  – $159 a month
One 2 hour class per week. This course is for the highly motivated young actor ages 9 to 12. Just as other AIA Students, Youth Core Actors are taught the extremely effective Liechty Technique which helps them develop a fail-proof acting process that can bring out their best work from audition to booking. Giving this opportunity at such a young age will boost the confidence of your young actor and put them on an early path to success. Youth Core students join in the AIAC Beginning Classes for the first two hours each week. They are taught  exercises, skills and drills a long side the adult students and participate in the weekly audition process.
AIAC Ongoing Individual Training  – $209 a month
One 30-min individual session weekly. 
Ongoing 30-minute weekly individual training. Actors will schedule their weekly training sessions as fits into their calendars. You will receive intensive, one-on-one technique training which will enhance your performances and auditioning at an accelerated pace.
Individual Training/Coaching
Individual Training/Coaching
$57.50 per half hour
Whether you need coaching to nail that audition, want to work on a monologue, memorization technique, characterization, a script you've booked, etc. we've got your back. Audition and or individual coaching can give you that competitive edge to move forward with your acting career. We look forward to working with you.
$110.00 per hour
Delve deep into that audition, script, monologue or technique you're working on. Our 1 hour individual sessions are ideal for getting the maximum results, preparation and guidance you'll need to really make the difference in your acting career. We look forward to working with you.
Complimentary Coaching
15-minutes of acting coaching with founder of AIAC and the creator of the Liechty Technique, Julie-Anne Liechty. We will discuss where you are with acting, your goals and how best to help you achieve them. We look forward to meeting with you.
$26.25 per 15 mins 
In person at Lightree Studios SLC or via zoom. Includes professional lighting, sound, coaching, editing, and uploading to all platforms except Eco Cast/Actors Access. Book below or text 323.215.6350 to schedule directly.